What are DID numbers?
DID Numbers are virtual numbers that empower users to transmit calls to existing telephone lines. DID Numbers help to set aside a direct number for certain employees, which implies that you could do away with multiple physical phone lines. With a DID number, organizations can process thousands of simultaneous calls to suitable extensions. DIDS are touted as the 'backbone' for firms where direct customer-to-employee communication is a decisive factor. Marpoint provides SIP origination worldwide.We offer Local DID numbers on over 100 countries worldwide. Numbers are provisioned instantly through our web-based portal. DIDs are available in flat rate unlimited channel pricing or per minute pricing; your choice!
---
Local DID Origination
Buy your DID today and terminate it to the number of your choice.
Buy +30 2118008XXX and terminate it to the Fleet Broadband, Iridium or VSAT phone of your choice
The caller is charged only for making a local call and the call to the Satellite is charged to the client office at unbeatable termination rates.
---
Toll Free Ship-to-Shore & Shore-to-Ship calls
Install our Marpoint SIP Trunk services for FREE of Charge calls from Ship-to-Shore and Shore-to-Ship communication.
Example: Dial your DID number +302118008XXX
---
Be redirected to Marpoint SIP trunk cloud server
Connect to the chosen vessel
If the vessel also uses Marpoint SIP trunk service, the call is free of charge throughout.
---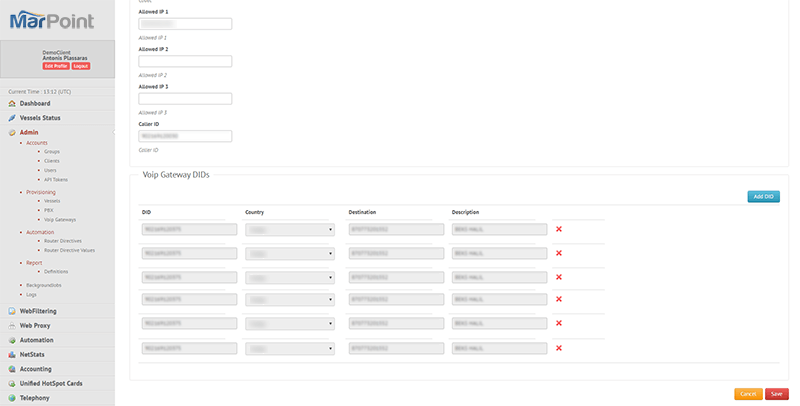 Need help? Get in touch with us at +30 2118005251 or email us at support@marpoint.gr
We strive to provide our Customers with a customized solution based on their needs.