ESET Endpoint Encryption powered by DESlock
---
A simple to use encryption application providing full remote control of endpoint encryption keys and security policy for files on hard drives, portable devices and emails. Ensures:
---
Today's cybersecurity landscape has an increasing number of data breaches happening every day. When these breaches occur if encryption is not implemented, then the data is at risk of being released to the public or utilized for malicious purposes. Some companies may choose to not care about the release of data, but all companies have sensitive data such as customer lists, proprietary information and sales-related data.
By implementing an encryption solution, businesses make it impossible for hackers to read the data that may have been stolen. The top industries for data breaches are traditionally ones that have valuable data such as financial, retail, healthcare and the public sector. However, that does not mean that other industries are safe—just that hackers typically weigh effort required versus the payoff.
Compliance with requirements
---
When it comes to compliance, most businesses first need to understand whether they have to meet a compliance or not. Next, they have to review what requirements the compliance recommends and mandates that their business implement. When it comes to encryption, many regulations and laws, such as GDPR, PCI-DSS, HIPAA, SOX and GLBA, require that it be implemented.
Endpoint encryption is no longer an optional solution for most businesses that handle credit cards or health information, but rather a required solution. All businesses should do research and evaluate if they need to abide by certain compliances.
---
Remote employees or traveling users have become the norm of most businesses. Employees are now working out of coffee shops or, due to travel, working from airports. However, the more remote employees that you have the higher the risk of lost or stolen devices. Not only do businesses need to worry about simply lost or stolen devices, they need to think about the process of terminating remote users.
Adding an endpoint encryption solution makes it much more difficult for people who steal or find your devices to gain access to your systems. In addition, most endpoint encryption solutions allow you to remotely disable devices in the case of employee termination or lost/stolen devices.
The more remote employees you have, the higher the risk of lost or stolen devices.
Why ESET Endpoint Encryption
---
Manage devices anywhere
Runs on both Windows and Linux. Deploy the desired components all at once with the general installer, or individually – or deploy as a Virtual Appliance.
User-proof removable media
Management of removable media devices in a secure environment can sometimes be a hassle. ESET Endpoint Encryption automatically creates partitions on a removable media device and only allows access to the secure partition when in the secure environment, and the non-secure partition when anywhere else. This keeps it extremely simple for end-users. Without any user interaction, home-related data stays at home and business-related data stays at the business.
Zero impact on productivity
The implementation of encryption is completely transparent for the users and requires no action on their part, increasing their compliance. No extra overhead is created for either IT departments or users, and there's no need for user training.
Remotely disable devices
More companies are moving to a mobile workforce where employees not only work at airports or at home but also at coffee shops. Due to this, businesses need peace of mind and the ability to remotely disable or lock out devices in case the device is lost or stolen.
ESET Endpoint Encryption provides a simple way to do this and once again requires no VPNs or firewall exceptions to do so.
Unique encryption key system
Using centrally managed, shared encryption keys avoids problems encountered by encryption solutions, which typically use either shared passwords or public keys. The system used by ESET Endpoint Encryption mirrors the way that physical keys are used to lock our houses, apartments, cars, etc. Staff already understand this concept, and it only needs explaining once. Coupled with a premium remote-management system, shared encryption keys are both highly secure and practical.
The shared encryption key system used by ESET Endpoint Encryption mirrors the way that physical keys are used to lock our houses, apartments, cars, etc.
No server required
ESET Endpoint Encryption requires no server for deployment and can seamlessly support remote users.
No special hardware required
TPM chips are optional but not required for using Full Disk Encryption.
Fully validated
ESET Endpoint Encryption is FIPS 140-2 validated with 256 bit AES encryption.
Multi-platform
Encryption supported across Windows 10, 8, 8.1, 7, Vista, XP, and Server 2003 – Server 2016 and iOS.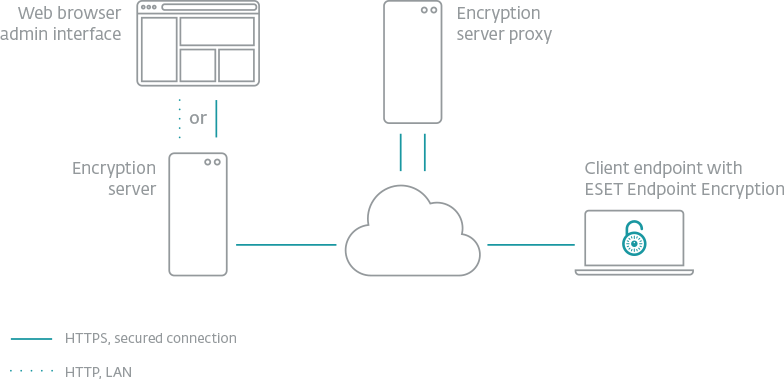 ---
Explore our customized solutions
Request a demo or a no commitment personalized offer to fit your requirements.
---
Need help? Get in touch with us at +30 2118005251 or email us at support@marpoint.gr
We strive to provide our Customers with a customized solution based on their needs.